I have been an old user of Dropbox since they've been in the beta run. Last month I reached my free space limit of 2 GB + 1 GB (from referrals). The thing is that I've been dependent on them so much that I can't stop using it. So I Googled for ways to get more referrals on Dropbox and using AdWords came up to be the best known solution for it. Here is how I maxed up my referral bonus limit by using just about $5 on AdWords.
1. Upgrading Dropbox to Education Account
If you're a student or still have access to your .edu email address, Dropbox doubles the amount of referral bonuses to 500MB per friend and up to 16GB of extra space for Dropbox Basic accounts and 32GB for Dropbox Pro accounts for students. Simply enter your .edu email address here and start earning more referral bonus.
For people who do not have a .edu email you'll be earning the following referral bonus according to your account:
Basic (free) accounts get 250MB per referral and can earn up to 8 GB, for a total of 10 GB.
Pro accounts get 500MB per referral and can earn up to 16 GB of extra space.
2. Getting $US75 in AdWords Advertising Voucher?
Option 1

(For U.S. or Canadian residents only): Click this link and fill out the form with your details to request a $US75 AdWords Advertising Voucher.

Option 2

(For Indians): Call 1860 266 6622 anytime between 9am and 6pm on weekdays and get a Rs. 2,500 voucher. More details here.

Option 3

: My company passes on US$50 vouchers to random people! For more details visit this page. We can setup everything for you (even the Dropbox campaign).
3. Setting Up The AdWords Account
I already had my account setup but for those who need help, here is how to do it.
After getting a hold of the free AdWords advertising voucher, sign in to Google Adwords and select Billing Preferences (under the Billing tab).
Complete the full setup process by providing your correct details, including your your credit card number. Don't worry about the card information as you won't be charged yet.
Some people need to complete a few more verification steps depending on the country they are setting up their account in.
After completing the setup process, visit the Billing Preferences page once again and enter your AdWords Prmotional Code under "Promotional Codes" and click "Redeem".
Now that your account is credited with free credits, you can use those credits to get more Dropbox referrals!
4. Setting Up The "Dropbox" Campaign
I setup a new campaign and chose to advertise in "All Countries and Territories" and selected "English, French, German, Japanese and Spanis"" as my languages. Under Bidding and Budget, I set a budget of $US10/day and put the Campaign End date to a date in the next week so that I could decide after 7 days whether I wanted to continue the campaign or not.
After setting up the campaign, I setup a few keywords (my list of keywords) and found that get dropbox, dropbox download, online backup free, free online storage and dropbox space worked best for me.
For Ad units, I setup 5 text-ad units as shown below.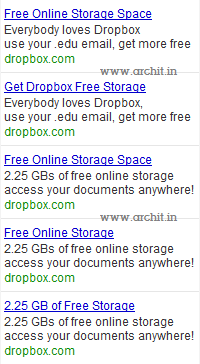 5. Now Just Enjoy The GBs Rolling Up!
I saw my referrals coming in as soon as my ads got approved in less than an hour. I had to run the campaign for 2 weeks in order to completely reach my referral bonus limit of 16GB.

In total, I now have 18.88GB (few gigs given to me during their beta run and a few for finishing their account setup process completely). I spent a total of 270.75 Indian rupees (~US$5.27) for my Dropbox referral campaign which is way less than paying for the Pro account worth $99.00/year.