So here it comes, finally! The review of my Samsung Galaxy S II (formerly, Galaxy S2). Wanted to use it for at least 2-3 weeks before writing mine so that I could write an honest and actual review on this amazing and stunning feat of engineering.
Oh before I proceed, a few things I would like to clarify, I will be benchmarking a few of the features with a Nokia N900 and a brand new White iPhone 4. I DO NOT hate Apple as many people might say, it's just that I don't approve of the iPhone as it locks to down to one single system, is not developer friendly, is not OPEN, too much of control by Apple, fooling people by introducing old technology and features and then falsely claiming them as their own "inventions", etc.
Now with the review. The marvelous handset was announced by Samsung in February at the Mobile World Congress 2011. Samsung has packed some of the most powerful smartphone hardware we've seen yet.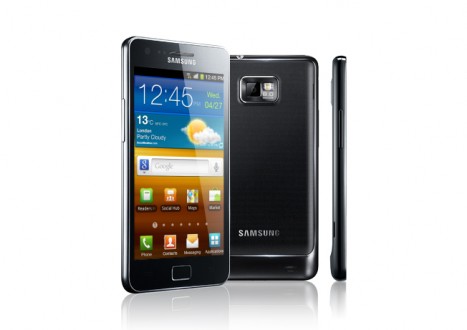 Nuts and Bolts
As soon as I opened the box, my first reaction was OMG! It's friggin thin! At first I was scared to hold it so that I don't break it. Although the body is made out of plastic surprisingly the body is really tight well built. So no fear of cracking the phone while it's in the pocket too. The phone's main element of making it tough to break is not the plastic body, but the Gorilla Glass, it's screen. Close to impossible to scratch or break, or so they claim.
The beautiful 4.3-inch Super AMOLED Plus display panel is the best part. Samsung has done some special coating on this Gorilla Glass which resists the usual fingerprint marks much better than the other two benchmark phone. The touch responsiveness is simply flawless.
The phone has a 1.2GHz ARMv7 dual-core processor which makes it faster than any of the two benchmarks. No lagging no nothing. Processing is simply super fast. More on it below.
Super AMOLED Plus what?
The first thing I tested out after setting up my phone was test it's viewing angle and guess what, it was impressive. While the N900 was nowhere as good as the Galaxy S II, the iPhone's viewing angle seemed similar.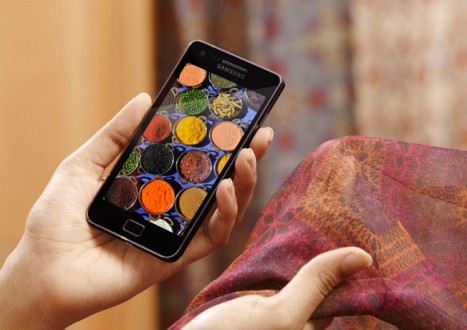 In front of the Galaxy S II, iPhone 4's screen seemed so tiny, purely because of the 4.3 inches screen which Sammy has put in for the handset.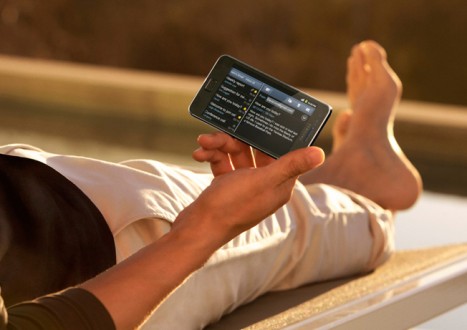 The screen is awesome, so battery life should suck?
As the the panel is an OLED panel, the display only illuminates the pixels that are needed to actively display non-black content instead of using one single back-light as traditional LCD screens do. This generates better blacks than the other LCS panels and reduced the battery consumption by a noticeable percentage.
I use my handset with Twitter, Gmail, Talk running in the background all the time with usual gaming and web browsing through Wi-Fi and EDGE.
Oh BTW, it was really cool finding most the paid iPhone games totally free of cost in the Android Market. Yes they do have ads in it but I do not care, they don't pop-up in the middle of the screen when I am playing the games, they are just shown in the Menus or while the transaction from one level to another is going on. What I care about is, they are FREE of cost.
Anyway, on a usual day the handset survives for an average of 20 hours on battery. But then it's a new battery so the hours should decrease by a couple of hours after a few months. Charging takes more time than the other two benchmark handsets but it gives more battery hours too. The N900 runs for an average of 11 hours while the iPhone barely survives through the day.
It has a speakers too?
Compared to the two benchmarks, the N900 won here with Nokia delivering two good quality loud speakers. The Galaxy S II was a little louder than the iPhone but nothing great. But wait, Sammy bundles a nice pair of in-ear headphones that make up to the mediocre speakers. External noise isolation and good audio delivery. It comes with an in-line mic that functions as play and pause buttons while playing a video clip or listening to music.
It can shoot?
Oh yeah! It has a rear-facing 8 megapixel and front-facing 2 megapixel camera. Shooting others has never been so much fun.
The stills came out very crisp at 3264×2448 pixels with almost perfect white balance, contrast and color.
The Full HD (1080p) video recording was also amazing. Only downside was being controlling your hand movements as the handset is quite thin and light. But once you get a hold of it, maybe you'll be able to make your very own home-version of Avatar.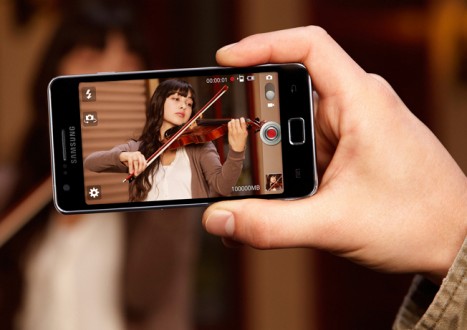 I have to mention this, the handset did not show any signs of lagging while processing the stills or the Full HD videos. It is very impressive. I shot a 5 minute Full HD video and as soon as I clicked the record button to stop the recording, vola, the video was ready. No slowdown. For the shooting a low resolution video took time to process with processing failures on random videos and and for the iPhone it took about 3-4 seconds to process the 720p videos it supports.
Even switching between camera modes was fast. And of course, the suite comes with an impressive Photo Editor too for those of you who edit on the move. I prefer using Photoshop (which also comes for the Android OS, free).
The camera includes a lot of features so you could sit for a couple of hours and play with it happily. The custom focus is also a clean feature. Just click the place you want to focus on and it's done.
Oh wait, it's Android. Glitches?
I must say, out of all the Androids I have seen and used, this one is by far the best one. The Galaxy S II has Android 2.3.3 and till now I have not been able to find any life-threatening issues. It is so smooth and easy to use with the amazing screen. There is no performance slowdowns while using the phone. It's menu, it's home-screens with live-updating widgets, actually anything on this screen, feels so good.
Yeah yeah, what about browsing?
Simply the best experience till now. With the biggest screen compared to the two benchmark phones, browsing is an amazing experience on this marvelous handset. While the N900's scrolling is B.A.D., surprisingly scrolling on the Galaxy S II is much much more better and easier to do than that of the iPhone 4's. While the iPhone scrolled very slowly and responding late to the finger movement, stopping as soon as you stop scrolling; scrolling on the Galaxy S II was so smooth. It responded almost immediately to the touch and scrolling was very smooth, stopping slowly after the finger has been removed.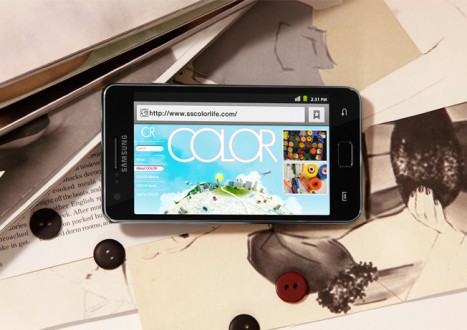 I tried scrolling to the bottom of the page on all the handsets while visiting the same website on the handsets, the Galaxy S II was the smoothest and the fastest, while the iPhone took a lot more finger scrolls to go down south. As a matter of fact, although the N900 doesn't carry a good screen, it was faster scrolling down compared to the iPhone, but processing the page where it scrolled to was very slow for it, making the iPhone faster overall compared to the N900.
Even re-orienting the screen from portrait to landscape or vice-versa is very fast.
Oh and it supports, Flash. And no, it does not slow down the handset nor does it decrease the battery life by a lifetime although it does take some time for the flash elements to load.
Can I talk to the phone?
You might think, what sort of a question is that? Well yeah, you can actually talk to the phone. And guess what? It listens to you more than your girlfriend does. Open up the Voice Command application while you are pressing the gas pedal and you can literally make the phone do anything you want to by talking to it. Call or Text somebody, update you Twitter Status, ask the phone to navigate you to some place, write and email, open an app, write a memo, play some music, etc. all while you are driving!
What else?
Well actually there are loads of more things but it would take me at least 100 more pages to write about them.
Sharing over DLNA fairly simple with Samsung's own AllShare app through which you can just browse through your device's music, video and pictures and access content on the fly.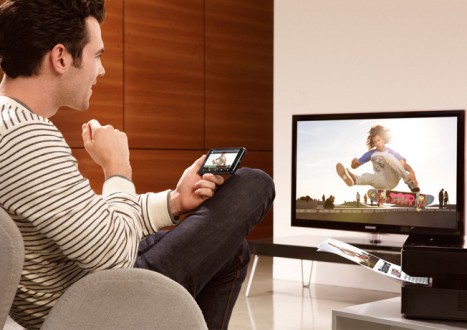 But what about the usual iPhone v/s Galaxy S II?
This had to come. I will try to be very fair out here. As one of my friends said, the Galaxy S II was created because of iPhone 4. I agreed. Now I can say, as the Galaxy S II has created a new record in engineering and design, the iPhone 5 will be the reason of the Galaxy S II. And as I say, the cat-fight between these companies is actually good for us, the consumers.
I don't want to go into much details about the comparison as convincing loyal Apple users is as everybody know very difficult. And they do tend to become angry when anybody say anything about their phones. If you really do want a comparison, you can find loads of them on the Internet. I would just ask the iPhone users are see just for once out of the box and notice the other "real inventions" the other companies are coming up with.
Again, I am not an Apple hater, mom always taught me how an apple a day keeps the doctor away, but I was never taught how it also locks you down and not see the world outside the box.
Android was created because of Apple. Because the creators wanted the actual users to be in control of their own phones, because the users wanted to install the kind of apps they wanted to, not the apps censored by somebody else. Because they wanted an open world.
Android is having a huge impact on other companies including Apple's new iOSndroid (iOS 5). The "new" Notification Center, Twitter Integration, Over the Air updates, PC Free, Reminders, Widgets on the Lock Screen, Photo Editing, Tabbed Browsing, etc where all "borrowed" from Android.
I don't say don't copy/borrow. That is called improvisation and it is always good for us consumers. But at least don't blame others of blatant "copying" 9specially when your own phone is made from that company's parts) when you yourself are copying others.
As Sam Cater at AppStorm came up with:
Apple rarely comes out with anything truly brand new or unique (OK, the iPhone was an exception to this) but they are very good at marketing — specifically, making people believe that they came out with it first. Sure, Apple put their aesthetic touch and flair to it all, which is very nice! However it doesn't disguise those features we have come to love on Android, and we spotted them quickly.
Apple is a design company, hats off to them for creating a real, usable interface for phones when they came out with the first iPhone. They did revolutionize the mobile handset industry. But there has not been a single new innovation from them after that. Same interface, hardware issues in almost all the newer handsets and not a single fully featured phone yet.
The market share says everything. Apple's market share has been stagnant for 3 years now, while Android's market share has risen by over 30% and is the most used OS in most of the countries now.
But, people say using an iPhone is easier to use.
All the handsets are are easy to use. It's just that people take time to change to a new interface. Like Windows users take time to adjust the Mac world, vice-versa. Like Toyota drivers take time to shift to using a BMW. Or anything. Android has different features than the iPhone, a different interface, so you will need time. For an old Android user, he might say, using an Android is easier than using an iPhone.
People also say downloading applications is not secure as they steal personal data?
Yes it is true, but only for people who use the unofficial app markets. This would be the same case for people using unofficial app markets on their iPhones. So it is nothing different. Unofficial app markets sometime host apps which have been rejected by the official Android Market on security grounds. If people complain about how their phone is effected, ask whether they are using any application downloaded from outside the official Android Market, if their answer is yes, simply ignore them.
Overall, what's your say?
Want to hold something different? Want to experience something which is by far greater than any of the phones out there, buy the Galaxy S II. It is the best you can get anywhere around the world. It did break a few world sales records made previously by the iPhone. The fastest selling phone on the planet. So there actually is something in it. The Android ecosystem is growing faster and faster, might be the right time to switch.
Psst.. Video!
http://www.youtube.com/watch?v=4n2Kp4ekWNs